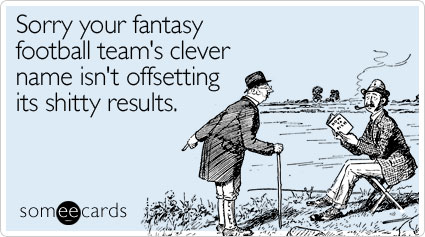 Gentlemen, Start your engines (crowd roar) fantasy football is back, baby.  And it wouldn't be a proper start to the preseason without our Fantasy Football Team Names post (2011 2010).   If you have any names that you'd like added to the list, leave your ideas in the comments.  Once you have your team name squared away, you can start preparing for your draft with FFPrep's 2012 Draft Kit for player rankings and our Fantasy Football Tools for our Draft Pick Trade Analyzer.
So without further adieu:
A Partridge in a Crabtree
Big Gores Don't Cry
Boats and Shiancoes
Bounty Hunters
Brady Gaga
Breaston Peace
Breesy like Sunday Morning
Cotton Schuabs
Cruz Control
Dez Dispenser
Dwayne Bowe Connection
Forte Year Old Virgin
Gettin' Gronk in the club!
Helu Kitty
Horseshoe for good Luck
I Can't Believe It's Not Cutler
I'm Bringing Hasselbeck
In the Garden of Weeden
Jake's Hurt Locker
James Starks of Winterfell
Jersey Leshoure
Let's Get Rasharded
Lynch Mob
Makin' It Wayne
Motley Cruz
My Morning Doucet
Peach Kolbler
Percy Whipped
RG3P0
Row-your-boat LeShoure
Sandusky's Tickle Monsters
She's a Britt.. House
Shonneshank Redemption
Stafford Infection
The Battle at Tannehill
The Big Tebowski
The House of Griffindore
The Jersey Gore
The Princess is in Another Cassel
The Token Blackmon
There's an AP for That
Tonsil Shockey
Too Legit to Britt
Tootsie Sproles
Wake Me Up, Before You Romo
Weeden't Start the Fire
What Would Jones-Drew
Whatchu Talkin' 'Bout Hillis
White Cassell
You Cam do it
You Say Goodbye, I say Helu
For more, check out the sources for these team names:
2012 Fantasy Football Team Name Contest
Make sure you add your team names or other funny names you've heard in the comments.